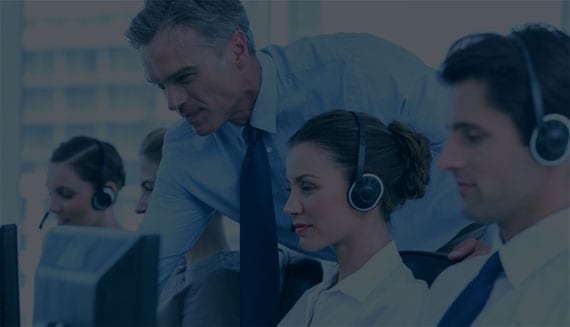 Since 2007, FracTEL has provided business class IP telecommunication services to carriers, service providers and businesses that require the very highest level of quality, reliability and support. FracTEL was founded on the principle that settling for anything less than 100% customer satisfaction is simply unacceptable.
FracTEL is fully committed to the understanding that we can only win if you do, and we are tirelessly devoted to providing you with the tools you need to make that happen.  We take enormous pride in the fact that many of our largest customers started out as our smallest, and that we have played a part in their success. Thousands of discriminating customers trust FracTEL with their mission critical telecom services each and every day, and no provider understands and appreciates the needs and demands of businesses better than FracTEL.
Michael A Crown, President & CEO
BSc, Northern Illinois University
Michael provides FracTEL with an informed strategic vision, a creative technical spirit, and a disciplined operations mindset gained through a 30 year career that includes positions with General Electric, Samsung Electronics, and JDS Uniphase as well as multiple startup ventures – including two successful M&A exits. He has previously served in multiple C-suite roles including: CEO (The VoIP Connection), CTO (Accent Technologies), and COO (Sentry View, Veri-Core), and has extensive experience in technical leadership and management roles. Michael is a pioneer in Software as a Service (Saas) and IP telecom, with more than 15 years of experience providing cutting edge telecommunications solutions for carriers and businesses. Michael is the designer of FracTEL's revolutionary network architecture and co-author of multiple FracTEL patents.
Olaf Bellstedt, Vice President & CTO
BSc, Florida Institute of Technology
Olaf brings almost 30 years of software and systems architecture and engineering to the FracTEL team, both as a developer and application engineer. An early adopter and proponent of Open Source technology, Olaf is a recognized expert with many of the underlying operating system and application software components that form the foundation of the FracTEL network. Previous to founding FracTEL, Olaf was a co-founder of The VoIP Connection and designed and developed the VS-1™, a highly successful premises-based PBX that featured numerous innovations, including the first solid-state Open Source PBX appliance, and the first web-based Graphical User Interface (GUI) for Asterisk. He has extensive understanding and experience supporting the telecommunications requirements of businesses both large and small, as well as carrier class telecom network design, deployment, and management.
Dr. John Scott, Chairman
PhD, University of Arizona
Dr. Scott holds dual PhDs in Physics and Astrophysics from the University of Arizona Steward Observatory, and has had a distinguished academic, scientific, and business career. He holds numerous patents and was published extensively in peer reviewed scientific journals during his time as a research scientist.
Dr. Scott was the principal founder of XL TechGroup, LLC, the parent and founder of a dozen technology startups over the last twenty years. Dr. Scott led a team dedicated to systematically founding and growing technology startups to significant value and later stage funding with an unusually high degree of success. Eleven of twelve XL startups received later stage, 3rd party funding; two of these were exited through M&A and six successfully attained IPO's in New York or London. Dr.Scott has assisted in raising over $500MM in public and private funding.
Mike Wilbur, Board Member
MBA, NYU Stern School of Business
Mike brings a wealth of Finance and Operations experience, working with public, private and startup companies.  Mike was previously Corporate VP of Finance for Bright House Networks (now Spectrum), the fastest growing and seventh largest cable operator in the US with more than 2.4M customers and $4B in revenue.  He developed and directed the back office for BHN's competitive local exchange carrier (CLEC) business that grew to 1M customers in under 5 years.  Prior to Bright House, he was instrumental in launching the Road Runner high-speed internet service for Time Warner Cable, overseeing acquisition of more than 750k new subscribers in less than 3 years, closing on $425MM in joint venture funding and the roll out of Video on Demand services for the network.
Mark Mohler, Board Member
Juris Doctorate, Master of Laws, University of Florida
Mr. Mohler has experience with the representation of businesses through all phases of their life cycle—from startup phase through liquidity event. He has been on all sides of the table, representing companies, owners and outside investors in business transactions, contractual matters, entity formations and restructurings, venture capital and private equity financings, project finance transactions, joint ventures, technology acquisitions, technology licenses, business governance and public offerings. Before founding Corridor Legal, Mark was a partner with one of the largest law firms in America.  He has a long history in the representation of technology and manufacturing companies and previously served as general counsel to a public company venture capital fund. He has extensive experience advising boards of directors and investors with respect to fiduciary matters, conflicts of interest and corporate governance issues as well as handling business disputes involving such issues.
Joe Rhem, Board Member
BSc, Georgia Institute of Technology
Mr. Rhem is founder and CEO of WiredIQ, developer of the patent-pending BrainBox, an intelligent appliance supporting a comprehensive suite of unique and powerful managed services. Prior to WiredIQ, Joe founded and was President of Star2Star Communications, where Mr. Rhem oversaw the sales and distribution aspects of the company from December 2004 to October 2015. During his tenure, the company received two consecutive INC 500 awards followed by three INC 5000 awards, Forbes Most Promising Companies, Deloitte's Fast Tech 50 and multiple awards from organizations including the Gartner Group and Frost and Sullivan. Prior to Star2Star, Mr. Rhem held the position of Global Principal Architect for Wireless Technologies at Computer Associates (CA), the world's 4th largest software company. Mr. Rhem also ran the CA Worldwide Information Management Advanced Technology Group, reporting to CA co-founder and board member Russ Artzt. In 2003, Mr. Rhem co-founded Highwall Technologies and patented the wireless security sensor known as the Highwall Sentinel. In 2001, Mr. Rhem co-founded Voyage Data Corporation, a successful wireless platform application development firm. Previously, Mr. Rhem founded Mindwave Technologies which was sold within a year to a subsidiary of Computer Associates.
Abe Reese, Board Member
BSc, Northern Illinois University
Mr. Abe Reese is a Founding Partner and President of Align.us, a cloud-based solution that helps organizations track and evolve their strategy and related documents in a hosted environment. Previously, Abe founded Aspex Solutions (also known as General ASP Inc) in 1998, and served as its President until it was acquired in 2014 by Frontline Technologies. Mr. Reese was responsible for the development of many of Aspex Solutions' processes and systems as well as the principal development of its flagship product, AppliTrack. Prior to Aspex Solutions, Mr. Reese was a senior programmer for United Stationers, a leading office supply and distribution firm. In addition, Mr. Reese was a founding member of the Making Managers into Leaders (MMIL) Institute and is a qualified Web Solutions Microsoft Partner.