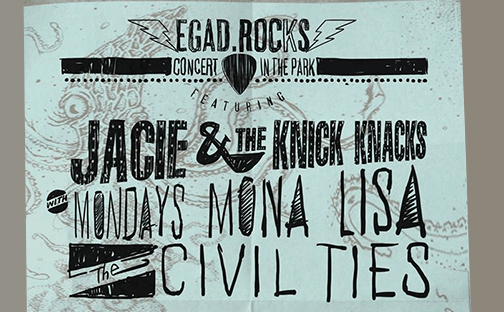 FracTEL and the Eau Gallie Arts District (EGAD) ring in the new year with EGAD ROCKS, an all ages rock concert in the Eau Gallie Square band shell January 2 from 8-11:30pm.
This event is free and open to the public. The line-up of three bands has been called the best of Brevard by Todd Kennedy, WFIT Radio. Those bands are Jacie and the Knick-Knacks, Mondays Mona Lisa, and The Civil Ties, all noted local Brevard talent.
FracTEL believes that a great entrepreneurial community grows from the intersection of technology and creativity. Consistent with our mission of supporting the arts, FracTEL is sponsoring EGAD Rocks, an all ages rock concert in the Eau Gallie Square band shell. Artist Derek Gores will be creating an original "Tape Graffiti" piece for FracTEL inside the Eau Gallie Band Shell.
The website – www.egad.rocks – has band biographical information, photos and event information.  Fresh content will be posted often via the web and Facebook/EGADRocks.
For further information, please contact Lisa Packard at (321) 574-2737 or info@eaugalliearts.com.
— —
Find out how FracTEL can help your business take advantage of the latest in communications technology.  Call us today at 321-499-1023 or visit us at www.fractel.net
Art connects people across continents and all walks of life. It has the power to change the way we think about our world. As a global communications company, we believe in providing creative solutions that have the power to transform our customers' businesses.
https://ww2.fractel.net/wp-content/uploads/2014/12/FracTEL-egadrocks.png
312
504
FracTEL Content
https://www.fractel.net/wp-content/uploads/2014/03/FracTEL_Tag_Logo.png
FracTEL Content
2014-12-30 20:09:13
2016-03-09 16:17:22
FracTEL rings in new year with EGAD Rocks