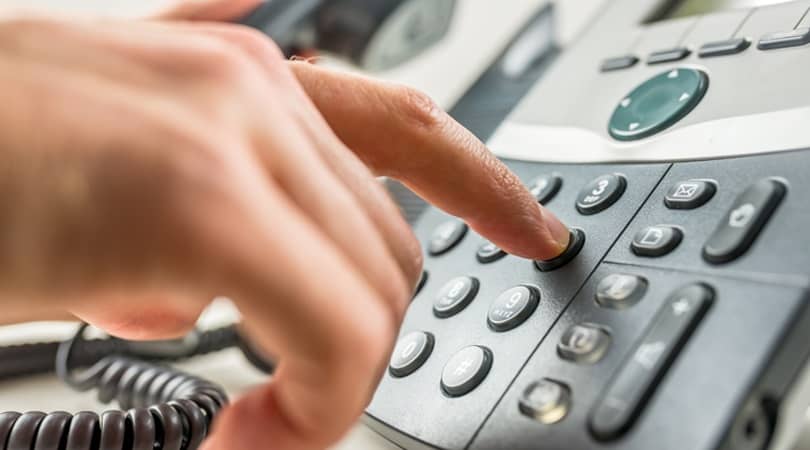 Missed phone calls mean missed opportunities.
If your business phone system is not dependable and you have calls dropping from poor quality, or your customers get frustrated trying to navigate it, you are likely missing opportunities. These are opportunities for business growth, opportunities for satisfied customers and opportunities to outdo your competitors.
Considering New Technology, is the Telephone Dead?
No, in fact, consumers still contact companies either to make a purchase, book an appointment or get customer service support primarily via the phone. Technology can often be a barrier between a company and its customers which is why customer service is more important than ever. Customers want to feel valued, not like technology has turned them into a commodity.
According to research by NewVoiceMedia:
$41 billion is lost each year due to poor customer service

75% of consumers think calling is most effective for a quick response

53% are irritated if they don't speak to a real person immediately

59% prefer to contact a business by phone

25% of consumers switch to a different company because they are tired of being put on hold

After a positive experience, 69% would recommend the company to others and 50% would use the company more frequently
What Your Phone System Says About Your Business
Whether you like it or not, the state of your business phone system makes an impression on your customers. You have likely had your own experience with trying to reach a customer service department, only to have your call dropped during a transfer. This can be very frustrating, especially when you are seeking answers to critical questions you have about a product or service. It also gives you a poor impression of the company you are attempting to contact.
The same could be said for your own business phone system. If your customers can't reach you or your system's call quality is poor…what impression are you giving your customers? A bad one because your customers or potential customers might consider your business to be unprofessional, or worse yet, your customers will think you just don't care. If this sounds like your phone system, maybe it is time to make a change for the better.
Cloud PBX for a Dependable Business Phone System
Upgrading your business phone system to Cloud PBX guarantees that your system is up and ready at all times because your system is continually monitored to catch problems before they cause a service issue. You are always assured excellent call quality.
Dependability and call quality from Cloud PBX can help improve the impression that your customers are getting from your business, but this type of system offers even more than dependability. No matter the size of your business, your phone system can offer features that make your business look more professional, such as an auto-attendant and voicemail that can direct calls to where they need to be without dropping transferred calls. You'll never miss a voice mail message with features like Voice2Email, Fax2Email, and smartphone integration.
Considering that 96% of a typical business' marketing budget is spent persuading a customer to call, shouldn't your phone system be a top priority? If your phone system isn't dependable and your customers or potential customers can't reach you, they will look for other options by calling your competition. Learn how a dependable Cloud PBX system can assure that your customers know they are valued and appreciated and that you are there to serve them with top tier care.
FracTEL was founded on the principle that settling for anything less than 100% customer satisfaction is simply unacceptable. We know you have the same commitment to your customers. Find out how FracTEL can help your business take advantage of the latest in cloud communications technology. Call us today at 321-499-1023 or contact us for more information.
Related Article:
Research Shows That the Best Companies Leverage Cloud Technology
https://ww2.fractel.net/wp-content/uploads/2017/09/Dependable-Business-Phone-System.jpg
450
810
FracTEL Content
https://www.fractel.net/wp-content/uploads/2014/03/FracTEL_Tag_Logo.png
FracTEL Content
2017-09-07 09:00:29
2017-10-17 00:08:47
A Dependable Business Phone System is Crucial to Your Growth