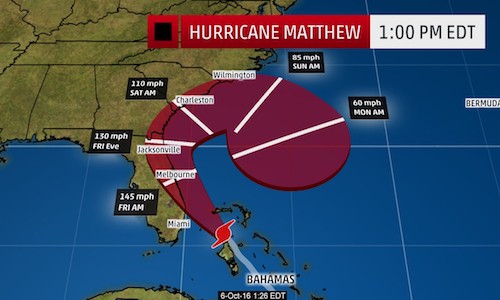 FracTEL is Prepared for a Major Hurricane
It now appears likely that Florida's East Coast will be severely impacted by Hurricane Matthew. The storm is currently classified as a Category 4 hurricane with 140mph winds, and is anticipated to maintain current strength as it approaches Florida. Projections show it passing perilously close to the Space Coast and possibly making landfall in the area. As of 3:00PM yesterday, the barrier islands of Brevard County – where our headquarters is located – are under a mandatory evacuation order, so our offices will be closed Thursday 10/6 and Friday 10/7. We hope to resume business as usual on Monday morning. In the meantime, the FracTEL team is leveraging our cloud-based infrastructure to work remotely in support of our customers – especially those based in areas affected by the storm.
The FracTEL team has endured severe tropical weather before, and we are prepared. Our experience with natural disasters has been a profound influence on the architecture and deployment of our network, and it was explicitly designed to withstand events like this one. FracTEL facilities and network components are all triple redundant and none are located in Florida, so no network impact is anticipated. Currently, all FracTEL services are 100% functional and are expected to remain so for the duration of the event. However, there may be some delays with non-essential activities such as billing and LNP processing while we focus on critical requests.
At times like these, our thoughts turn to the well being of our families, friends and valued customers who are affected by this calamity. Please know that our thoughts are with you, and that we stand ready to assist you in any way we can.
Above all, PLEASE STAY SAFE!
For any service impacting emergencies, you can always contact the FracTEL support team at 321-989-6727.
For billing or other inquiries please call our main number 321-499-1000 and leave a message for your party or in our general mailbox.You may also submit requests 24 hours a day, 7 days a week via email at support@fractel.net or via our support portal at helpdesk.fractel.net.
The FracTEL Team
Find out how FracTEL can help your business take advantage of the latest in cloud communications technology.  Call us today at 321-499-1023 or visit us at www.fractel.net
https://ww2.fractel.net/wp-content/uploads/2016/10/MATTHEW_1.jpg
300
500
FracTEL Content
https://www.fractel.net/wp-content/uploads/2014/03/FracTEL_Tag_Logo.png
FracTEL Content
2016-10-06 13:36:48
2016-10-06 13:40:57
Hurricane Matthew Update #1