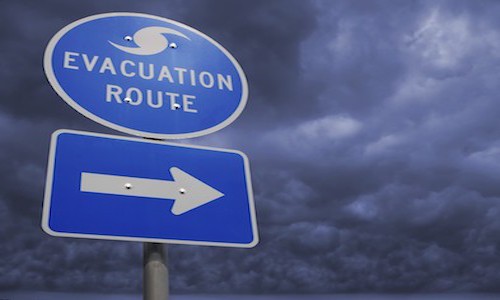 It's Time to Prepare!
We don't know for sure whether Hurricane Matthew will affect the East Coast, but at this time it appears that residents should prepare.  We also aren't sure how powerful it will be when it arrives. One thing we can be sure of is that the triple redundant FracTEL network will be safe and will remain 100% fully functional regardless of Hurricane Matthew's impact.
As a precaution, we would like to offer some guidance on how to prepare for the storm, and to suggest some options for configuring your FracTEL phone system so that your customers can keep in contact with you in the event that you are forced to evacuate, or if there is a loss of internet or power at your facility. Always remember that you can contact the FracTEL support team with an email to support@fractel.net for assistance with setting up failover routing to an alternate location or to your mobile devices.
FracTEL Provides Business Continuity
One of the biggest benefits of the FracTEL Cloud-Based architecture is that all inbound phone calls route to one of our triple redundant data centers before being forwarded to your facility. This allows you to program failover options so that if we are unable to connect calls to your FracTEL phone for any reason, the call can be forwarded to another location – to your mobile devices, to an answering service, or any other way you want to handle them.
An additional benefit of the FracTEL Cloud PBX system is that your extension moves with your device. If you need to relocate temporarily to another office or work from home, you can take your phone with you and it will function properly as long as it has a working internet connection.
Another great capability facilitated by Cloud PBX is the option to configure an auto-attendant with a recorded greeting that will let your customers know about the pending storm, how it might affect your business, and provide them with information and updates as the situation evolves.
If you don't have it already, this might also be a good time to install the FracTELfone app on your Android or iOS smartphone. You can use the FracTELfone App to make and receive calls as if you are calling from your desk phone in your office. You can also check your office voicemail.
Preparing Your Office for the Storm
Here are some general tips for preparing your business for a storm:
Ensure you have an up-to-date local backup of your computer(s).  You can use Windows Backup in Windows 7 or 10, or Time Machine on a Mac.
Move sensitive electronics away from windows or any location that might be exposed to water penetration.
Perform a software and data inventory on your computer (list programs you have installed, confirm backup and restore procedures, etc.)
Confirm you have your passwords in order.
Perform a Home / Business Video Inventory for insurance purposes.  This is easiest to film and narrate on your smart phone, and will show all of your electronics and equipment in their current condition.
Make sure laptops and cell phones are fully charged, you have sufficient car chargers, and consider purchasing some USB device rechargers to recharge your phone(s) and tablet(s) in the event of a power outage.
Non-essential devices should be unplugged from the wall .
Elevated electronics off of the floor (this includes computers / wires / surge protectors / etc.).
Disconnect coaxial cables from your modem and cable box(es), and phone and Ethernet cables from computers (lightning can short out equipment via coaxial, phone and Ethernet cables).
Essential devices without an internal battery should be plugged into a battery backup, or at a minimum a quality surge protector. This includes computer(s), phone system(s), and network equipment.
Make sure devices that are set to turn back on when power is restored after a power loss.
Get Up and Running After the Storm
These are general tips for using your computers and other electronics after a storm:
If all is well, reconnect your equipment the way it was before. If you use a modem with a separate router, power them on in this order:  Modem – wait for it to sync / connection light to turn solid or about 3 minutes, then turn on your router.  After that turn on your computer(s) and you should have network and internet access pending any service provider outages…
If all is NOT well and you need to run a generator, DO NOT plug your computer(s) or network equipment directly into a generator! Your computer is sensitive to electricity and most generators do not deliver a steady, conditioned stream of electricity. If you must run your computer equipment, make sure a good quality battery backup (recommended) or surge protector (at a minimum) is between the computer equipment and your generator.
For any service impacting emergencies, you can always contact the FracTEL support team at 321-989-6727.

For billing or other inquiries please call our main number 321-499-1000 and leave a message for your party or in our general mailbox.You may also submit requests 24 hours a day, 7 days a week via email at support@fractel.net or via our support portal at helpdesk.fractel.net.
The FracTEL Team
Find out how FracTEL can help your business take advantage of the latest in cloud communications technology.  Call us today at 321-499-1023 or visit us at www.fractel.net
https://ww2.fractel.net/wp-content/uploads/2016/10/Evacuate-1.jpg
300
500
FracTEL Content
https://www.fractel.net/wp-content/uploads/2014/03/FracTEL_Tag_Logo.png
FracTEL Content
2016-10-04 15:55:43
2016-10-07 14:54:30
Preparing for Hurricane Matthew