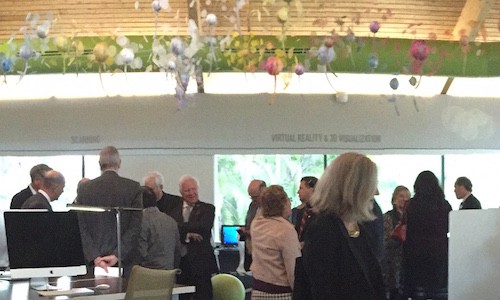 Cutting Edge Florida Tech Facility Features FracTEL Videoconferencing Technology
On January 22, 2016 FracTEL executives attended a ceremony to open the new state-of-the-art Digital Scholarship Lab at Florida Institute of Technology that features a Videoconferencing Center donated by FracTEL.
The Lab, located on the second floor of FIT's Evans Library, provides students with access to a wide variety of advanced computing and digital technologies and also provides spaces to facilitate group study and collaboration.
According to FIT, "Evans Library's Digital Scholarship Laboratory allows researchers to access, integrate, and share current and future research across all disciplines using digital tools and resources such as Data Curation, Digitization, Spatial Analysis, and Visualization, among others. It provides a springboard to innovation for the Florida Tech community in partnership with major corporations in the area and beyond."
The technology in the Videoconferencing Center, donated by FracTEL, supports students and faculty with the ability to connect and collaborate remotely with participants across the university and all over the world. FracTEL also supplies a variety of additional Cloud Communications services for Florida Tech.
Michael Crown, FracTEL President, said of the event "FracTEL is extremely proud of our partnership with FIT, and to be part of this remarkable facility. We salute the vision of Florida Tech leadership in providing students with direct access to all of this advanced technology. FIT's reputation and stature are rising rapidly, in large part because of their investment in resources such as this."
Find out how FracTEL can help your business take advantage of the latest in cloud communications technology.  Call us today at 321-499-1023 or visit us at www.fractel.net
https://ww2.fractel.net/wp-content/uploads/2016/01/DSL.jpg
300
500
FracTEL Content
https://www.fractel.net/wp-content/uploads/2014/03/FracTEL_Tag_Logo.png
FracTEL Content
2016-01-23 12:04:11
2016-03-09 15:48:16
FracTEL Attends Opening for FIT Digital Scholarship Lab