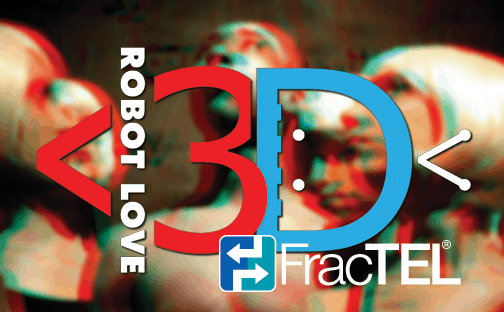 FracTEL Presents a weekend of Art, Music and Technology at the Robot Love 3D show at the Eau Gallie Arts District
More than 75 artists are featured in the legendary contemporary exhibit of creativity in it's many forms- Visual art, performing art, live music and interactive displays, often showing the connection between raw creativity, design, technology and innovation.
February 13-14, 2015
TICKETS ON SALE NOW at 
www.RobotLove3D.com
Fri and Sat, 6-midnight, 18+ only, $20
Sat, Noon-3 *Kids FREE*, adults $20
$30 ticket for access both nights prepaid.
at the Florida Institute of Technology's Renee Foosaner Education Center, 1520 Highland Ave. in EGAD.
— —
Find out how FracTEL can help your business take advantage of the latest in communications technology.  Call us today at 321-499-1023 or visit us at www.fractel.net
Art connects people across continents and all walks of life. It has the power to change the way we think about our world. As a global communications company, we believe in providing creative solutions that have the power to transform our customers' businesses.
https://ww2.fractel.net/wp-content/uploads/2015/02/FracTEL-RL3D.png
312
504
FracTEL Content
https://www.fractel.net/wp-content/uploads/2014/03/FracTEL_Tag_Logo.png
FracTEL Content
2015-02-09 21:02:00
2016-03-09 16:16:20
FracTEL Presents Robot Love 3D 2015