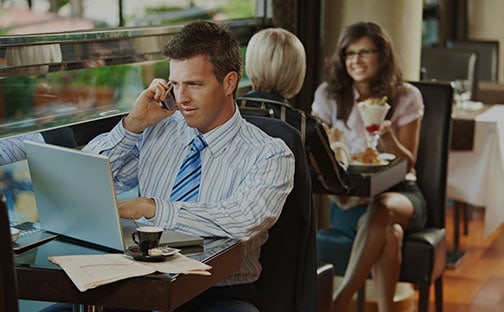 It is very important for small business owners to make potential customers feel confident that they are an established, well-staffed organization that is capable and ready to serve them.
FracTEL Cloud PBX has many easy-to-use features that can assist a small business in creating a positive impression. One great example is the Auto-attendant feature.  The Auto-attendant feature allows you to offer your callers a custom greeting for a powerful introduction to the business and lets you define a set of menu options such as Sales, Support, Billing, etc. that portray a robust and fully staffed organization (even if there's only one person handling all the calls!).  Best of all, your Auto-attendant works around the clock, every day of the year.  The greeting that plays and the routing of menu selections can vary based on the time of day, the season, or special occasions.  By combining Auto-attendant with FindMe/FollowMe, you can ensure that you never miss a call.  With FindMe/FollowMe, you can ring your desk, home office, mobile phone, or smartphone app at the same time or in sequence based on your preference.  In addition, you can take advantage of a marketing opportunity by playing promotional messages while a caller is waiting to get connected.  With the power and flexibility that FracTEL's Auto-attendant feature provides, the possibilities are endless and any entrepreneur can look like an enterprise without spending a fortune.
— —
FracTEL's auto-attendant feature provides a powerful and flexible way for your business to appear much larger than it actually is, around the clock, through a professional incoming-call interface that you control.
Find out how your business can have the latest in auto-attendant technology.  Call us today at 321-499-1023 or visit us at www.fractel.net.
https://ww2.fractel.net/wp-content/uploads/2014/12/FracTEL-Auto-Attendant.jpg
312
504
FracTEL Content
https://www.fractel.net/wp-content/uploads/2014/03/FracTEL_Tag_Logo.png
FracTEL Content
2014-12-09 15:00:33
2016-03-09 16:17:42
Cloud PBX Makes a Small Business Look Big