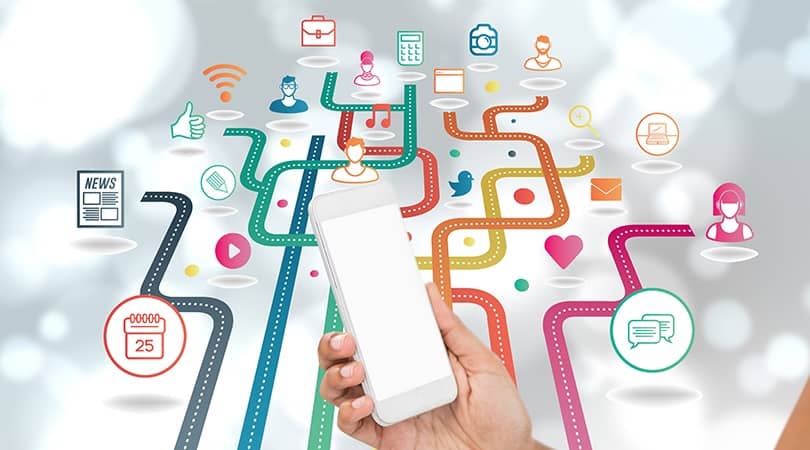 It seems today that business is moving faster than ever. However, there are some small to mid-sized business (SMB) owners that are finding it difficult to keep up, let alone stay ahead of all the innovations in business technology and mobility. If you want your business to grow, you need to increase information flow not only within your business, but also to your customers and vendors. And this is where advances in business phone systems can help by bringing their exceptional functionality to promote growth via mobile marketing.
How is Mobile Marketing Being Implemented?
More than 50 percent of the population uses their smartphones every day and marketers have taken note of this. The use of mobile marketing efforts and text-based marketing via cloud-based phone systems is leading the way for not only enterprise level businesses, but also for SMBs.
Consider these mobile marketing ideas that are now possible and affordable for SMBs:
Using text messaging through phone systems to contact customers

Sending location-based messaging and push-based messaging to mobile phones

Using SMS to announce sales and new product arrivals
Mobile Marketing Fuels Growth
Mobile marketing is a cost-effective way to reach targeted customers. According to Mobile Marketing Watch, 98% of SMS messages are opened. SMS marketing is permission-based, so those receiving the messages have willingly opted-in and are expecting a business' messages. This highly targeted approach yields higher returns and greater customer satisfaction than email which often ends up in spam folders.
Mobile marketing has an immediate effect. Most people check their messages as soon as they receive them. When you can reach your customers at any time, wherever they are, you have an opportunity to build a relationship with them. Sending messages about sales and new product arrivals in advance of announcing them to the public is a way to make mobile customers feel special which can lead to increased sales and loyalty.
Benefits of Phone-Based Marketing
SMS functionality for SMBs is a popular feature with cloud-based phone systems. These systems provide an affordable way for SMBs to broaden their flexibility, automate their marketing and scale their systems.
Automating marketing can:
Boost your sales by integrating your desktop phone system with an on-screen CRM database. You can have instant access to your past customer interactions to increase your opportunities for upselling.

Improve your customer's experience by providing useful business information while they are on hold. Calls can be recorded and monitored for review or training purposes, while marketing can be improved by analyzing call content, caller response rates and call times.

Create better advertising by using multiple numbers where you can test the effectiveness of different advertising messages and offers to see what works best for you. It is also possible to increase response rates by creating personalized numbers that are easy to remember.
Upgrading to a cloud-based phone system for your marketing efforts can provide you with significant savings over the cost of using traditional phone systems. If you want to save money and build more marketing value from your business's phone system, a cloud-based phone system is a major asset for boosting your company's marketing effectiveness.
FracTEL's Cloud-based phone solutions take mobile marketing to the next level. SMBs are finding that our feature-rich system gives them the options they need to scale and grow their businesses. Using SMS and integrating it with a phone-based, automated marketing is a cost-effective way to reach targeted customers and drive sales.
How can FracTEL help your business grow? Contact us at 855-372-2835 to learn more.
https://ww2.fractel.net/wp-content/uploads/2017/10/How-Mobile-Marketing-Helps-SMBs-Grow-Faster.jpg
450
810
FracTEL Content
https://www.fractel.net/wp-content/uploads/2014/03/FracTEL_Tag_Logo.png
FracTEL Content
2017-10-19 09:00:02
2017-10-17 00:08:46
Mobile Marketing Helps Businesses Grow Faster